What Is Thermography?
Infrared Thermography, Thermal Imaging, and Thermal Video are examples of Infrared Imaging Science. Thermal Imaging Cameras detect radiation in the Infrared range of the electromagnetic spectrum (roughly 9,000–14,000 nanometers or 9–14 µm) and produce images of that radiation, called thermograms. Since infrared radiation is emitted by all objects above absolute zero according to the black body radiation law, thermography makes it possible to see one's environment with or without visible illumination. The amount of radiation emitted by an object increases with temperature; therefore, thermography allows one to see variations in temperature. When viewed through a thermal imaging camera, warm objects stand out well against cooler backgrounds; humans and other warm-blooded animals become easily visible against the environment, day or night.
Thermography has a long history, although its use has increased dramatically with the commercial and industrial applications of the past fifty years. Maintenance technicians use thermography to locate overheating joints and sections of power lines, which are a sign of impending failure. Building construction technicians can see thermal signatures that indicate heat leaks in faulty thermal insulation and can use the results to improve the efficiency of heating and air-conditioning units.
Infrared thermography can be applied to any situation where knowledge of thermal patterns across the surface will provide meaningful data about a structure, process or system.
Applications
Preventive/Predictive Maintenance
Condition Assessment
Condition Monitoring
Quality Assurance
Forensics
Surveillance
Medical/Veterinary
Infrared Thermography is a non-contact, non-destructive method of testing that can be performed remotely while measuring and recording temperature data.
Infrared is used for condition monitoring and to locate problem areas in:
Electrical Systems
Mechanical Equipment
Refractory
Building Envelope
Insulated Roofs
CMU (Block Walls)
Tanks and Vessels
VOC leak detection
Quality Assurance
Major benefits of Infrared Thermography:
Lowered equipment replacement costs
More efficient use of maintenance manpower
Extended equipment life
Cost of emergency repairs can be reduced
Reduction in unscheduled downtime
Better time management during periods of scheduled downtime
Shorter periods of scheduled downtime with problem areas already pinpointed
Evaluate the quality of repair work being performed
Increased reliability in the plant power distribution system
The overall efficiency of the preventive maintenance program will increase
Potential for insurance premiums to be lowered
LOCATE AND REPAIR PROBLEMS BEFORE THEY TURN INTO A MAJOR LOSS
Building Envelope
We scan for moisture, missing insulation, wet insulation, leaks in flat roof systems, and other building anomalies. The information provided by this type of building survey can be the difference between major repairs or replacement and more cost efficient surgical type repairs making infrared surveys one of the most important and powerful tools in your budget-cutting arsenal.
Cost savings are realized by reduced energy costs, improved occupant comfort and health, early detection of structural damage caused by excess moisture, and reduction in the size of routine maintenance and repair projects. (i.e.: section roof repair vs. full replacement)
A thermal signature is detected via thermography with virtually no interruption of business. Problem areas are identified from the information presented in our report. Using this information, a corrective action plan can be implemented.
Issues often discovered through Infrared scans:
Moisture Intrusion/Leaks
Roof and Ceiling Leaks
Heat Loss / Energy Loss
Pipe and Ductwork Leaks
Excess Heat in Electrical Components and Wiring
Insulation Deficiencies
Damage Caused by Termites and Other Insects
Damage Caused by Rats, Mice, and Other Rodents
Internal Structural Problems
For a complete building envelope inspection to be performed a minimum of 18 F temperature differential is required inside / outside.
Our infrared services are a great compliment to your home inspection because of the ability for the thermal imaging camera to see deficiencies that are not visible to the naked eye.
Baseline & Quality Assurance
Immediately following installation of a new component or system, it is important to gather baseline data. Baseline data is essential in determining whether the repair or installation was done properly. This will also arm you with the information necessary to properly monitor the system or component during the remainder of its service life.
Electrical
From faulty components to issues during installation, our infrared electrical inspections are designed to locate problem areas before they become major issues. Using this technology as part of your Predictive and Preventive Maintenance programs will help reduce unscheduled downtime and allow for greater productivity.
According to the National Fire Protection Association, "routine infrared inspections of energized electrical systems should be performed annually prior to shut down. More frequent infrared inspections, for example, quarterly or semi-annually, should be performed where warranted by loss experience, installation of new electrical equipment, or changes in environmental, operational, or load conditions." Since infrared thermography is a non-contact form of testing, there is no interruption of service needed to perform a quality inspection.
Our reporting software will allow for routes to be generated throughout your facility to ensure all equipment is monitored in order of importance to your operation. Contact us to see how we can help you add to or start a quality infrared inspection program of your electrical equipment.
Mechanical
Adding or expanding the use of Infrared in your Predictive and Preventive Maintenance programs can have great cost savings and safety benefits. As mechanical equipment is operated, heat is generated. Excess heat can be the result of friction, misalignment, improper lubrication, or improper belt tension.
Mechanical applications for Infrared Inspections:
Motors
Rotating equipment (Bearings, Couplings, Hydraulics)
Refractory – Condition monitoring and assessment
Boilers
Steam Traps
Insulated lines
Any of the above listed applications are great candidates to be included in your infrared programs.
Our reporting software will allow for routes to be generated throughout your facility to ensure all equipment is monitored in order of importance to your operation. Contact us to see how we can help you add to or start a quality infrared inspection program of your mechanical equipment.
Refractory Degradation – Monitoring and Assessment
All refractory material has a lifespan. When refractory material is replaced, usually a profile of the old material will be taken to assess its performance. This profile will help those in charge to determine the best course of action for installing the replacement material. Armed with this knowledge, the decision may be made to change to a thicker/thinner material, a material with a different composition, or zoning the materials to combat the wear patterns that were observed during the profiling process.
Now let's take a look at how thermography can help us make some of these decisions on the fly and keep all employees and contractors working in the areas around these refractory lined vessels, pipes, etc. as safe as possible while doing so. The goal is to achieve maximum use from the refractory material during each campaign. This will help to minimize conversion costs and maximize profits. Having the ability to monitor the condition of the refractory material with a method far more advanced than just a visual examination can prove to be a very wise alternative. The ability to see changes in the thermal patterns across the surface of the outside shell of the vessel can equip you with the information needed to make the difficult decisions regarding refractory life while always focusing on the safety of all involved.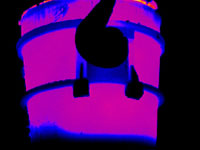 Refractory failures (washouts) can be very expensive. Assuming no one is injured during the incident; the costs involved include loss of material, downtime, cleanup expenses, idle manpower and possibly missed shipping deadlines. All of those costs are a drop in the bucket if someone is injured, or worse, during one of the incidents.
Roof Scans
Through the use of Infrared Thermography, areas of trapped moisture in insulated roof systems are identified and marked allowing for repairs to be made surgically. The obvious benefit to locating these areas of trapped moisture and having the ability to make spot repairs is a better performing roof system that will experience a longer service life. By marking directly on the roof, areas in need of repair can easily be seen by anyone standing on the roofs after the survey is performed
How It Works
During the day, the sun radiates energy onto the roof and into the roof substrate. At night, the roof then radiates the heat back into the atmosphere. Areas of the roof that are of a higher mass (wet) retain this heat longer than that of the lower mass (dry) areas. Infrared imagers detect this heat and "see" the warmer, higher mass areas, during the "window" of uneven heat dissipation. Areas showing exceptions at the time of inspection are also tested with a non-invasive (Tramex) moisture meter. Core sampling can also be performed to verify non-invasive test results.
Why Seagate Infrared?
With over 30 years of roof troubleshooting experience and Level III Infrared Thermographer Certification, we supply you with more than just images of your roof. We create detailed, high-quality and easy to understand reports documenting roof moisture and areas of compromise. Roofing contractors can then use the information to write specifications to repair the roof.
Block Wall Scans
In the past the only way to know if grouted cells, bond beams, insulation and other components of a CMU (Concrete Masonry Unit) wall were properly placed was to open the wall with hammer or drill.
There is a method that is accurate, non-destructive and inexpensive. Infrared Thermography makes it possible to see the grouted cells in the entire wall section. Seagate Infrared's testing method can be performed at any time during the construction process without interrupting any other trades or affecting the progress of the rest of the building.
Structural deficiencies in a CMU building can be a real problem. If the wall receives a trauma like a hurricane force wind or tornado and customers or workers inside the building are hurt, the legal ramifications can be devastating. A forensic examination of a block wall laid on the ground post-event will most likely reveal some structural deficiencies. The building owner, architect, structural engineer, general contractor and masonry contractor will all likely be held accountable when these deficiencies are documented.
Valuable benefits of a Seagate Infrared block wall scan performed on your newly constructed CMU walls are:
A documented record of the grouted cells and other structural components is created
When deficiencies are found, corrections can be made with surgical precision
Quality Assurance is provided for Building Owners, Designers, and General Contractors
Equine
Whether you are buying, selling or just looking for a routine infrared scan of your horse, EquineIR™ can prove invaluable to your finances and the horse's health.
Before Equine Thermography, veterinarians could only locate a problem with observation or palpation but with equine thermography, an abnormality can show tissue that's stressed before the affected tissue becomes damaged.
Since animals cannot speak, it has been difficult for caretakers to truly identify hidden or masked conditions. Now with infrared thermal imaging, many of these physiological and anatomical issues are exposed at a much earlier stage.
Early detection = early prevention.
Why perform an Infrared Scan?
PRE-PURCHASE
HOOF BALANCING
INFLAMMATION
GENERAL DIAGNOSTICS & PREVENTIVE MEDICINE
PRE-EVENT IMAGING
SADDLE FIT
MUSCLE/NERVE INJURY
Saddle Fit
A horse's saddle should fit correctly and have even bearing on the horse's back. A thermal review of the horse and the saddle can show when pressure points are unevenly distributed, therefore causing discomfort to the horse and rider.
*Non-Invasive and completely safe (No harmful radiation)
*About 15-20 minutes for a full horse scan
*Scans are done at your location, you won't have to Trailer
*Reports are reviewed and interpreted by a Veterinarian specialized in Equine Thermography
*Costs are reasonable and include Veterinary interpretation.
EquineIR™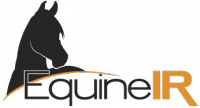 EquineIR™ is an International Network of Certified Thermographers who have been trained in the application of Equine Thermography. Equine scans can be done at your local veterinary office or your barn location. Call our office today to find out more information and to locate a certified technician in your area.
Seagate Infrared is staffed with highly trained Level III Certified Infrared Thermographers equipped with high resolution imagers to allow for a comprehensive inspection that will lead to a detailed report of any and all exceptions. Our reporting software also generates a cost savings analysis with every electrical report, further adding to the value you will receive with your inspection and report.