Our Commercial Services
Whether you're buying a building, leasing, or just wondering about the condition of the one you're in, there is no better investment than obtaining a professional and objective opinion of the building's condition.
Our Property Condition Assessment
Inspection reports are customized to meet our clients' requirements. In some cases, a "bottom line" approach is called for, while in others, "chapter and verse" is more appropriate. Content and format are dictated by how the report is to be used and its intended audience. Whatever the form, our reports are laid out in clear, concise language that outlines problems or potential trouble areas. Our reports can make specific recommendations, including repair costs and priorities.
Different commercial buildings have different reasons for inspections. Variables such as age, occupancy and type of construction have a bearing on how the buildings are inspected and the performance criteria by which they are judged. Our clients' needs dictate the degree of inspection and the specific issues to be addressed. Inspections can vary from an examination of the structure or roof only to a comprehensive inspection of all technical facets of the building, including:
Structure
Exterior Walls
Roofing
Insulation
Heating
Air Conditioning
Ventilation
Interior Finishes
Elevators, Electrical, Plumbing, Fire Protection and more...
We Inspect, Detect and Protect Your Best Interest
Due to the high cost of replacing a damaged roof, Thermographic roof inspections should be performed whenever a building is purchased, sold or leased.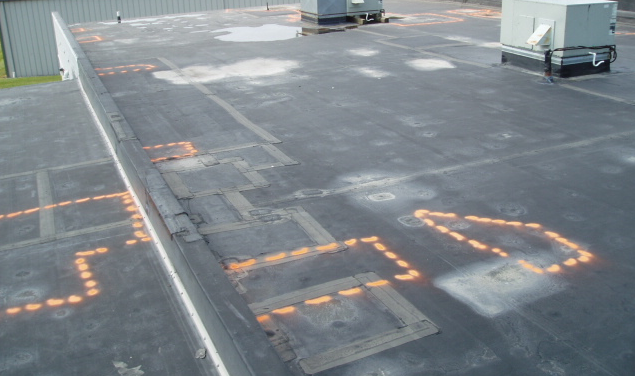 Infrared roof surveys provide the diagnostic information necessary for developing an effective roof maintenance program, planning capital budgets and for making informed decisions when considering roof repairs, replacement or resurfacing with one of the popular new roof coatings.
We are a certified infrared testing and thermal imaging company staffed by Level III Thermographers conducting Infrared inspections.
Infrared, is a proven noninvasive technology that enables the development of a proactive maintenance and management program. The thermal infrared inspection and images we provide help our customers to find problems, satisfy requirements for insurance company requested inspections and supply the necessary information to make informed, data based maintenance decisions.
Properties of all descriptions are evaluated, including:
Industrial
Institutional
Retail
Office
Churches
Special use buildings, such as sports complexes and nursing homes are also among the projects we have completed.