Consulting Services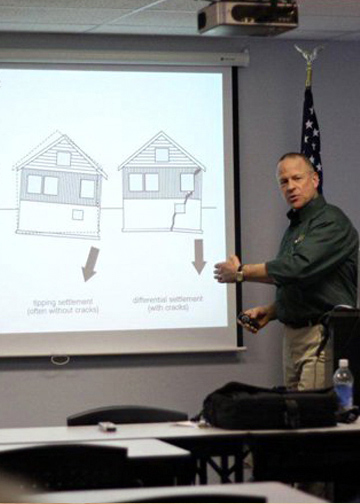 Seagate Inspections, Inc. offers consulting and quality assurance services for both residential and commercial properties. Services are performed prior to, during, and/or after construction as well as trouble-shooting of problems that may arise later in the building's life. In addition to these services Seagate also performs construction dispute resolution including mediation and/or arbitration of construction disputes.
Jim Johnson, President and founder of Seagate Inspections, Inc. has over 35 years of experience in residential and light commercial construction and has held his General Contactor License for nearly 30 years. His background also includes 12 years of experience in heavy insurance repair to homes and small businesses and 22 years of experience as a building consultant performing residential and commercial building inspections. During this time he has specialized in trouble-shooting of problems with an emphasis on roof and building envelope leaks. Jim has also served as an expert witness in building related disputes many times over the past 15 years. Jim keeps current by attending ongoing education and development seminars in building related subjects (typically 10-20 hours per year).
Seagate Inspections, Inc. also offers the following inspection/consulting services to homeowners and building owners: Progress Inspections on New Construction or Remodeling, General Inspections for Roof replacement or trouble-shooting, Structural Inspections, Exterior Cladding Inspections (synthetic stucco [EIFS], Applied Concrete Masonry Veneer [thin veneer stone], and various other types of siding materials), Moisture Intrusion investigations, Infrared Thermography scans of flat roofs and building envelopes (interior and exterior), and Mold Inspections and Testing.
Builder/Contractor/Owner Mediation
Insurance Company Disputes (Umpire)
Product Failure Disputes
Warranty Disputes
Expert Witness Testimony
Arbitration (BBB)
Building Envelope Investigation
Moisture Intrusion
Roof and roofing materials (RCI)
Thin Stone Veneer
Certified EIFS Specialist (AWCI)
Foundation Investigation and more...
Please Contact our office for further information about any of our Consulting Services at 419.865.6238.